How to manage uncertainty and adversity by Toni Nadal
As a tennis coach and physical trainer, he trained from the beginning of his career until 2017 the professional tennis player Rafael Nadal, considered one of the best sportsmen and tennis players in history and the best of all time on clay courts. His objective has not only been to train him as a sportsman, but also and mainly as a person, promoting in him a series of values such as discipline, self-demanding, humility, self-control and the correct management of both success and defeat.
In this talk, Toni Nadal tells us his experiences in first person and how he faces this time of great changes.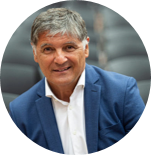 Toni Nadal
Motivation expert, tennis coach
and fitness trainer