How will the Coronavirus change the world we know? 5 key ideas
Matthew Goodwin is an academic, speaker and bestseller writer who is known for his work on political volatility, risk, populism, British and European politics, elections and Brexit. He is Professor of Politics at Rutherford College, University of Kent, and Associate Fellow at the Royal Institute of International Affairs, at Chatham House. Matthew's latest book was the Sunday Times bestseller, National Populism. He regularly speaks to investors, financial institutions and governments about political issues.
In this talk, Matthew Goodwin addresses questions about the impact the Covid-19 crisis will have on the future of our society, the business world and our daily lives.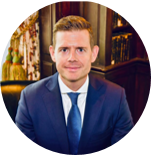 Matthew Goodwin
Renowned expert, lecturer
& bestselling author
English version (original version)