The medicine of the future
Recent technological progress is leading to breakthroughs in scientific and biological research, resulting in better diagnoses and more cost-effective treatments. A recent example is the speed at which the vaccines against coronavirus have been developed.
Advances in biology in recent years combined with progress in technology has had a significant impact on all sectors of the economy: from health through agriculture and consumer goods to energy. These advances increased dramatically over the past year as the coronavirus came into our lives.
"Many companies are leveraging the progress in genetic engineering, artificial intelligence (AI) and Big Data to develop new treatments"
In the area of healthcare, technology is driving innovation in biology and medicine, resulting not only in better medical diagnoses but also in cheaper treatments. In 2003, the human genome scientific project marked a turning point, opening the door to future huge advances in other areas based on DNA sequencing.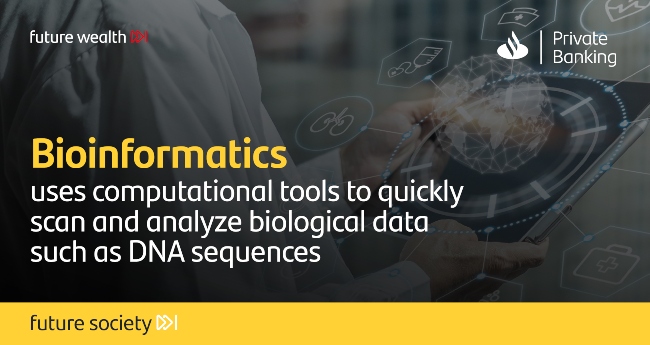 This has resulted in a vast amount of data that bioinformatics can use to link patient's analyses and genetic information to choose between different treatment options. This information can be used for academic research and also in the pharmaceutical and medical diagnostic industries and this, together with the decreasing cost of genome sequencing, is driving the demand for tools that can organize, analyse and store the growing amount of biological data.
This not only opens up new treatment opportunities but also business ones, and will drive research much faster than in the last 20 years.
"Gene editing technology could be the biggest breakthrough in medicine this century"
The speed at which vaccines have been developed for the coronavirus has changed the vaccine development paradigm, and the invention of easily reprogrammable RNA vaccines is a major triumph based on decades of research and opens the window to a new future.
RNA vaccines are faster and cheaper than their conventional counterparts, and also safer for the patient as they are not produced from the pathogen. They also offer potential as new therapeutic options for treating major diseases such as cancer. In short, they will transform the pharmaceutical industry.
The Future of Health and Life Sciences theme uncovers the opportunities that the advances in different fields of medicine offers and also seeks to identify the companies and catalysts that are driving this rapdidly near future. Learn more about Future Wealth, Santander Private Banking's advisory framework that brings innovation to your investments.