Robotization is here to stay. What opportunities does it offer investors?
Robots are part of everyday life, both at home and in the workplace. Robotization has increased productivity, decreased dependence on third parties, and helped control costs.
Robotics is the field dedicated to the design, construction and use of machines (robots) in order to carry out simple, repetitive tasks or processes. This is known as Robotic Process Automation (RPA).
However, technological progress has transformed the initial conception of a simple repetition of processes. The introduction of smart automation, a natural evolution of RPA, into these processes has made it possible to increase flexibility, improve process quality and accuracy, and provide "smart" responses in specific contexts. Subsequently, artificial intelligence integrated analytical capabilities into robots to enable them to generate a coherent independent response.
Because of their improved capabilities, robots are now part of everyday life, both at home and in the workplace. New devices, processes and technologies have increased productivity, or production per person-hour, while avoiding exposing people unnecessarily to hazardous situations.
In addition, the COVID-19 crisis and the invasion of Ukraine have caused companies to rethink their supply chain strategies, reorienting their production towards self-supply and domestic manufacturing, while also trying to maximize cost efficiencies; these three factors (productivity, domestic manufacturing and cost efficiency) have increased the demand for robots. According to data from Statista, between 2021 and 2028, the global robotics industry will expand at a compound annual growth rate (CAGR) of 10.8%.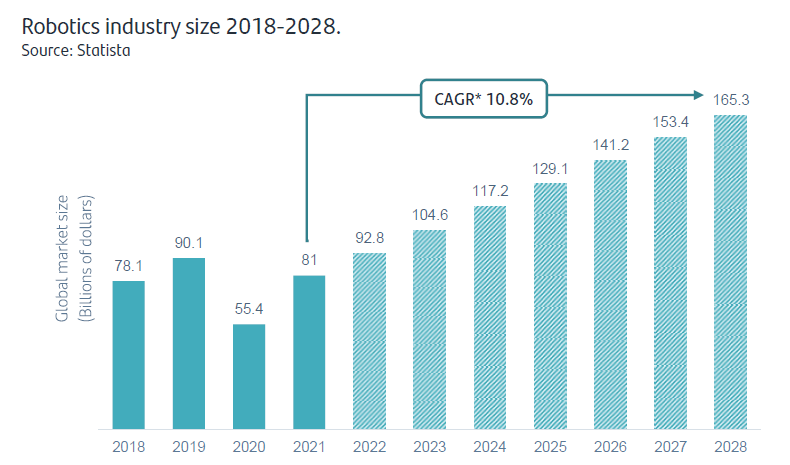 This progress by the robotics industry points to a number of innovations that will have an impact in the future. Santander Private Banking's investment specialists analyse each one:
1. Drones and mobile robots
Drones, a type of aerial mobile robot, are evolving beyond their military origins to become powerful business tools. They have already made the leap to the consumer market and are now being put to work in commercial and civil applications, from firefighting to farming. A Frost & Sullivan report estimates that unit shipments will increase at a compound annual growth rate (CAGR) of 4.5%, reaching 2.91 million units in 2023, from 2.44 million units in 2019.
2. Autonomous vehicles
The Society of Automotive Engineers (SAE) defines a taxonomy based on the level of vehicle autonomy (1). Levels 0 to 2 include driver support features, while levels 3 to 5 offer actual automation. In level 3, which requires a driver, the vehicle is capable of analyzing its environment and making decisions based on sensors with computer vision, cameras, radar and location. In levels 4 and 5, the vehicle exchanges information with the environment, uses 360º recognition and provides greater safety.
3. 3D printing
3D printing is now a crucial component in the robotics industry. It can be used to produce much more accurate parts for robotics projects with less waste of materials. Beroe, an Indian market intelligence consultancy, estimates that this field will experience 14% annual growth from now until 2027.
These are all developments being implemented by investible companies around the world. Our Future Wealth advisory framework seeks to anticipate transformational changes and complement conventional portfolios with solutions focused on companies that are leading the application of new technologies and trends in sectors such as robotics.