Investment opportunities that contribute to curbing climate change
Climate change, the change in temperature and weather patterns over the long term, is a phenomenon that has always been present, affecting remote parts of the globe as well as areas closer to home. However, it is only in recent years that this issue has attained prominence on the agenda of the world's major countries.
In order to slow this process and its effects, more and more countries and organisations are committing to a reduction in net carbon emissions. Technological innovation and progress are essential in this transition to a more environmentally friendly world. As part of this process, companies have emerged that offer alternative solutions to make the world more sustainable; given the widespread and growing interest in the planet's sustainability, those companies represent investment opportunities.
COP21: Paris Climate Agreement
At the Paris Climate Change Conference (COP21) in 2015, a total of 196 states adopted the Paris Agreement. The main objective of this event is to reach agreements that cap global warming at 2°C. To achieve this, society must reach net zero emissions of long-lived greenhouse gases by 2050, something to which Santander Group is already committed.
This major transformation is only possible if the world economy's productive asset base undergoes a large-scale switch to clean technologies. To achieve this, the United Nations Sustainable Development Goals (SDGs), adopted at COP21, serve as a global reference in the fight against climate change.
COP26: Agreement renewed in Glasgow
At the United Nations summit in Glasgow in November 2021, more than 190 countries reached a new agreement to accelerate the reduction of greenhouse gas emissions worldwide and reduce the use of fossil fuels. The signatory countries now account for more than 80% of global emissions of carbon dioxide. In 2018 that figure was only 15%.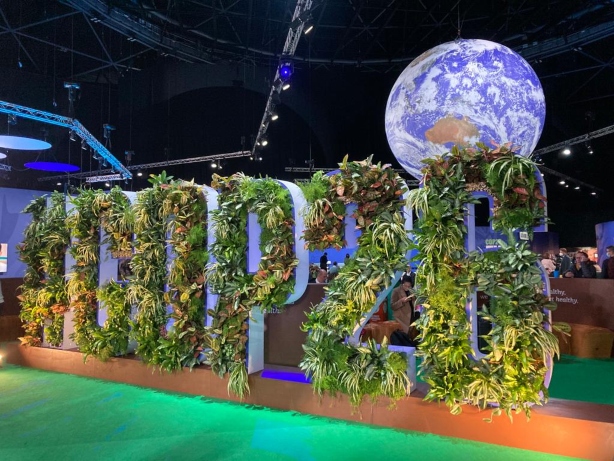 United States and Europe, on the move
In the United States, the framework presented recently by the White House through the Build Back Better (BBB) Act, which is pending approval by Congress, earmarks USD 555bn for investments in clean energy and combating climate change. This entails a massive allocation of funds to reduce carbon dioxide emissions via such avenues as electric vehicles, green hydrogen production and carbon capture.
Meanwhile, the European Union set up the Recovery and Resilience Facility, a major new-generation instrument to help the EU emerge from the current crisis stronger and more resilient and make European economies more sustainable, resilient and better prepared for the challenges and opportunities of the green and digital transition.
Each national plan must earmark at least 37% of expenditure for climate-related investments and reforms. Meanwhile, institutional investors have begun to adapt their conventional ESG investments to climate objectives, notably by demanding that they contribute to the decarbonisation of the economy.
Key trends in climate action
1. Smart electricity grids
The current grid needs a great deal of automation to be able to cope with the electricity demand created by digitalisation. A smart power grid is one that can efficiently integrate the behavior and actions of all users connected to it in such a way as to ensure a sustainable, efficient energy system, with low losses and high levels of quality and security of supply.
In the United States, the infrastructure bill earmarks USD 65bn for the construction of new, resilient transmission lines to facilitate the expansion of renewable energy.
2. Control of air pollution and emissions
The global emission control technology market is forecast to exceed USD 160bn by 2025. These innovations reduce vehicle exhaust emissions that harm both the environment and our health.
The U.S. Environmental Protection Agency estimates that approximately 30% of commercial buildings in North America have significant air quality problems, of which only about 5% have been resolved.
3. Energy efficiency
Energy efficiency, also referred to as the "fifth fuel", is a set of activities that make it possible to reduce the energy consumption of a given process while maintaining the same level of production or service.
The International Energy Agency (IEA) notes that energy efficiency is consistently highlighted as the most important means of saving energy and cutting greenhouse gas emissions. For example, energy efficiency could contribute to nearly half of North America's oil self-sufficiency by 2030.
There are numerous opportunities to actively participate in the fight against climate change through companies that accelerate the achievement of net-zero emissions by 2050. Through the Future Wealth advisory framework, you can participate in this future and contribute to curbing the consequences of climate change.