In partnership with Financial Times
The road to a fully electric future
Sales of electric cars have been accelerating steadily for more than a decade, topping a record 3.2 million globally in 2020 even as the Covid-19 pandemic slowed overall sales of passenger cars.
Tax incentives, stricter fuel-economy standards, eco-conscious consumers and new, lower-priced models are expected to rev up sales even further this year — by as much as 70 per cent. But what does this mean for the electric vehicle (EV) market and the businesses that power it?
Explore with us the countries that are leading the charge, the competitors catching up with Tesla, the winners and losers along the supply chain, and then finish off with an EV race around the planet!
Growth of the EV market
The electric car made its first appearance in the late 1800s in the form of light battery-powered carriages. While they soon outsold more unwieldy vehicles powered by horses, steam and gasoline, their popularity didn't last.
The advent of the internal-combustion engine (ICE) in the early 1900s made it cheaper to run a car on petrol, which was more widely available and powered vehicles for longer distances – pushing EVs off the road for decades. Now, over a century later, that trend is on course to go into reverse.
In 2020, EVs accounted for more than 4 per cent of all new vehicle sales worldwide, almost double its market share a year earlier. While the market cap for EVs has since pulled back slightly, it remains neck-and-neck with ICE vehicles. The switch to EVs will continue at pace as governments introduce tough emissions policies and generous incentives to go electric. Global sales are forecast to grow by 29 per cent a year over the next decade, exceeding 31 million by 2030.
Countries and regions leading the charge
China is the world's largest EV market by far, followed by Europe and the US. Together, they account for 94 per cent of global EV sales. On a per capita basis, Norway takes the prize for sales. Last year, it became the first country in the world where electric car sales were higher than the combined sales of cars powered by petrol, diesel and hybrid engines.
But even in countries with comparatively lower EV sales, uptake is growing exponentially. In Spain, for example, EV registrations topped 20,000 in 2020, a 64 per cent jump on the year before. China and Europe will continue to dominate the EV market, driven by tough regulations and generous incentives.
Carmakers in the fast lane
In the race to go electric, Tesla has long held pole position — and not just for EVs. Its market cap soared beyond $800bn in January, putting its worth on a par with the world's nine largest carmakers combined. The US car pioneer will need to continue innovating to keep its lead as competitors vie for a bigger slice of the market. Carmakers new and old are set to unveil dozens of new EVs this year, with 520 new models expected to hit the road by 2022.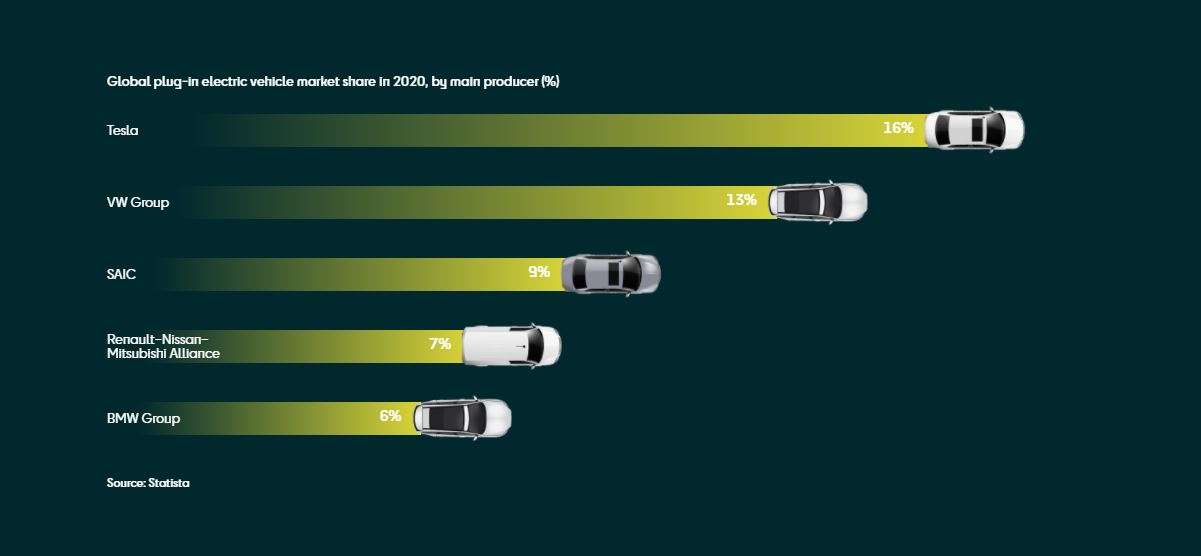 Plugging in: The complex EV battery supply chain
Manufacturing an electric vehicle requires fewer mechanical parts than for a traditional car but involves many more electric and electronic components. With carmakers set to roll out more than 30 million EVs a year by 2030, demand for materials risks exceeding supply. The biggest challenge facing carmakers lies in sourcing the raw materials that make up the thousands of cells in each EV battery, the most expensive part of an EV.
Who has the power?
Asian manufacturers dominate the global EV battery market. South Korea's LG Chem overtook China's CATL and Japan's Panasonic as the biggest maker after hiving off its EV battery business late last year. Even so, China remains the biggest maker of lithium-ion batteries, the most common type of battery used to power EVs.
Europe is forecast to become the second largest producer as it boosts investment to meet demand from regional carmakers, which must expand their EV line-up to avoid emission penalties for new cars.
Taking over the road
With countries and manufacturers throughout the supply chain shifting to more sustainable transport, when can we expect EVs to take over the road? Consumers will only make the switch in large numbers when EVs become as affordable to run as petrol cars.
Battery prices have already fallen dramatically this decade, but they will need to drop to around $100/kWh for EVs to become as cost-competitive as ICE vehicles — a tipping point that's expected to be reached in the middle of this decade.
Electric odyssey
EV ownership receives a turbo boost this year as motorsport fans tune in to Extreme-E. The world's first electric off-road racing series, which kicked off in April, features electric SUVs competing in extreme environments around the world to raise awareness of climate change and accelerate EV adoption. We are official sponsor of the Spanish team ACCIONA | SAINZ XE Team.
The competition vehicle, designed to deal with the most hostile terrains, pushes the boundaries of EV range and power. As motor enthusiasts follow the race, carmakers will be assessing how these high-tech cars perform and will apply what they learn to the next generation of EVs.
Into the future…
This will take the electric car to places that the pioneers of battery-operated vehicles could never have dreamt of — and will further fuel demand for a clean form of transport whose time has finally come.
EV sales are forecast to grow by 29 per cent a year over the next decade, exceeding 31 million by 2030. By 2040, well over half of all passenger vehicles sold will be electric.
Explore other articles
What does the patient of the future look like?

How fintech can brighten consumer experience

Smart manufacturing is transforming the way we consume energy and reduce waste