Digital Health - What it means
Digital health pursues efficiency in the healthcare system to provide appropriate high-quality care to a growing global population
Digital Health is a term used to describe the set of new solutions for the healthcare sector arising from the convergence of technology and medicine. It is a broad, multidisciplinary concept that includes many categories, from the Internet of Things to conventional connectivity solutions, and other newer ones such as robotics in surgery, telemedicine and blood glucose monitoring.
It offers a range of services that enable customers to manage chronic disease and obtain early diagnosis.
12%

Health industry contribution to world GDP in 2022
Source: Bellevue AM, March 2023

USD 1.3bn

Estimated size of healthcare digitalisation business by 2030
Source: Market Research Future (MRFR)

23.7%

Compound annual growth rate

Lifestyle changes
In the Diabetes Atlas 2021, the International Diabetes Federation (IDF) estimated that there are 537 million adults with diabetes worldwide.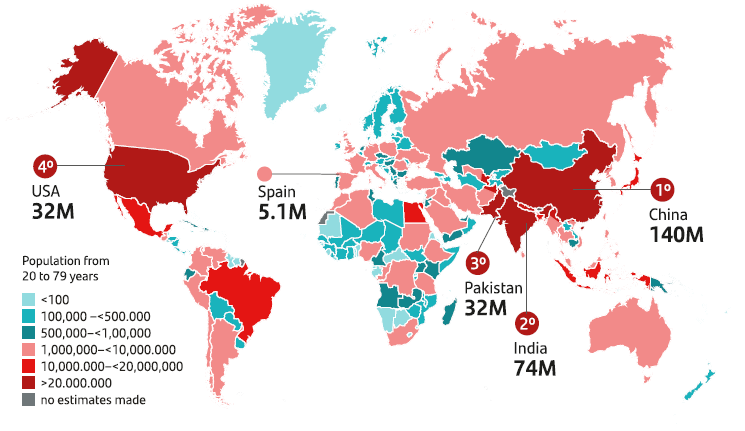 Demographics
According to the World Bank, 9.54% of the world's population were aged 65 and over in 2021.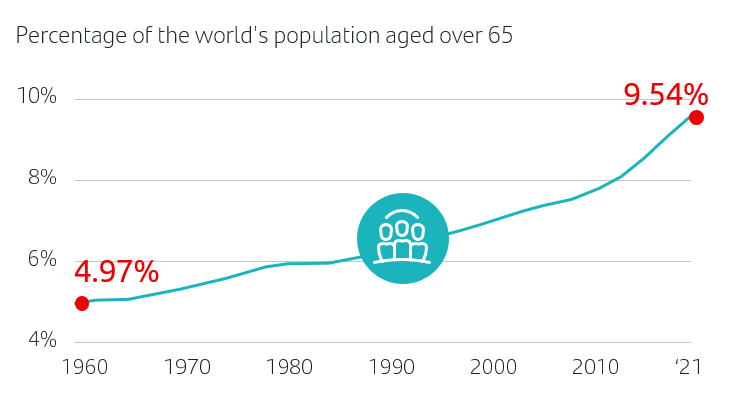 Other key factors that are influencing the expansion of the digital medical sector are the increasing adoption of smartphones, improved Internet connectivity thanks to the deployment of 4G/5G, advances in healthcare IT infrastructure, the growing need to control healthcare costs, and the development of technology for the medical sector.
Improving the efficiency of the healthcare sector
Telemedicine
This system allows remote consultations, which saves time, costs and travel for both physicians and patients.
Apps
Health-focused mobile applications improve lifestyle habits and facilitate disease management.
Electronic medical records
Digitalising medical records enables the information to be centralised.
Wearables
Smart accessories, such as activity wristbands, glasses and even clothing, are already capable of monitoring physiological variables.
Augmented reality
This technology makes it possible to view organs in 3D, view the patient's test results in real time and plan surgery. It is also used in training healthcare professionals.
Big data and artificial intelligence
Both technologies are used to process the immense amount of data produced by the healthcare sector in order to detect risk factors and perform predictive analysis.
Important Legal Information
This document has been prepared by Banco Santander, S.A. ("Santander") for information purposes only and is not intended to be, and should not be construed as, investment advice, a prospectus or other similar information material. This material contains information compiled from a variety of sources, including business, statistical, marketing, economic and other sources. The information contained in this material may also have been compiled from third parties, and this information may not have been verified by Santander and Santander accepts no responsibility for such information. Any opinion expressed in this document may differ from or contradict opinions expressed by other members of Santander. The information contained in this material is of a general nature and is provided for illustrative purposes only. It does not relate to any specific jurisdiction and is in no way applicable to specific situations or individuals. The information contained in this document is not an exhaustive and formal analysis of the issues discussed and does not establish an interpretative or value judgement as to their scope, application or feasibility. Although the information contained in this document has been obtained from sources that Santander believes to be reliable, its accuracy or completeness is not guaranteed. Santander assumes no responsibility for the use made of the information contained herein.