Mark Esposito | Megatrends
Mark Esposito has held academic positions at Harvard University, Cambridge University, Hult International Business School and IE Business School. He has authored more than 11 books, and his latest publication "The AI Republic" is an international bestseller. He co-founded Nexus FrontierTech, a pioneering artificial intelligence company; is a World Economic Forum expert; and advises numerous
agencies and governments on innovation.
In this talk, he helps us understand how megatrends affect worldwide growth and why innovation is important to business development; how businesses can be more efficient and competitive by adopting the latest developments in data management and artificial intelligence; and the impact of blockchain.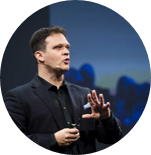 English version (original version)